See my segment on:

Inner core specialist, Kathleen Pagnini, would like to know…
Would you like less belly fat, less back pain, more bladder control and better sex?
There IS an answer to an attractive body, nice skin and a healthy body WITHOUT   Pills, Pads, Surgery, Crunches, Kegels or working out like a maniac for our menopausal years.
Train the WHOLE core and pelvic floor.
Most people focus only on the outer core, abs back, kegels…but there is a whole other 'core' inside that not only stabilizes your spine, but regulates your hormones and activates your self healing mechanisms by putting your guts and organs back up into their proper place.
Inner core fitness focuses on the inner 'core set' group of muscles that surround, stabilize and protect your spine prior to movement. This group of muscles 'fire' all at once (involuntarily) in preparation to move.   This includes the innermost and strongest layer of the 3 pelvic floor muscles. There is an 'order' of activation from the 'inner core' (corset) to the outer core (coat). (the involuntary action of your inner core to voluntary action of your outer core). TRAIN YOUR WHOLE CORE for a lifetime of Youthfulness and Vitality without the worry of 'leaking'.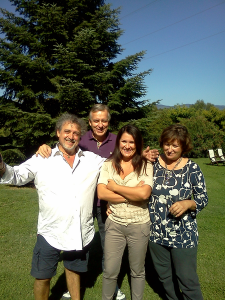 "Finally, I can thank you for the little "antipasto" of Pelvic Floor you shared with me and my sister Nives last autumn when you came to visit us in our beautiful Tuscany. I have been thinking about this for a long time. Then when you came to visit and taught Nives and I about the "inner core" on the lawn in her garden, it opened up a whole new world!
Please try to organize a Pelvic Floor Workshop soon at Cristina's B&B in Tuscany.  It would be great! Time to make plans for your next visit, so that we can get real serious about the Inner core and the Pelvic Floor !
Ciao bellissima donna! Ci vediamo presto! See you soon!"
Danielle